SimService support
If you can't find answers to your questions online, Call:
+45 7022 2045
Monday to Thursdays from 08:00 AM to 16:00 PM, CET.
Friday from 08:00 AM to 15:00 PM, CET.
+45 7022 2045
Please have the following to hand when you contact us:Enquiries regarding SIM card, network or coverage:
MSISDN/ Mobile number of the SIM card
Information about the geographic location of the device.
Enquiries regarding invoices and payments.
CVR/VAT number/ Contract number
Invoice ID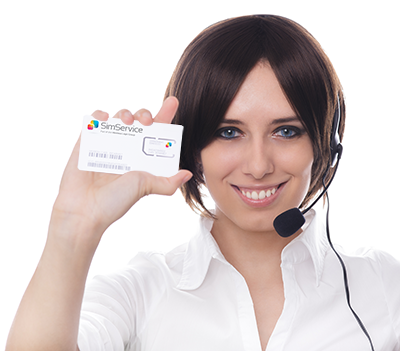 Operational information
Can I test if my SIM card is on the network?
Answer: Yes, you can send a regular SMS to your device. Please follow the instructions below.
| SMS | Network | Description |
| --- | --- | --- |
| *k# | Telenor | Send the SMS text to your SIM card number, after which you will receive a reply *. |
| *0# | TDC | Send the SMS text to your SIM card number, after which you will receive a reply *. |
* If you receive a message return, which says "message attempted delivered," the device is not connected to the network.If you receive a message return which says "message delivered", the device is connected to the network
Secure network and APN possibilities
APN and secure network
APN stands for Access Point Name. Mobile Internet users and M2M devices on GSM networks require an access point (APN) to access the Internet. By default, SimService Internet offers APN, one-way communication from your M2M device to your backend system. You can also choose M2M public IP (IPV4). This solution is an open connection to the Internet, which should be secured. If you want increased security, consider the M2M SimSecure option, which uses a closed network.
Hvilket APN skal jeg bruge?
Svar: Standard APN hedder internet for både TDC og Telenor. APN sp.simservice.dk anvendes kun, hvis SIM-kort er en del af et lukket netværk. APN simstaticip.com anvendes, hvis du har statisk IP på dit SIM-kort.

Does SimService provide Static IP address?
Answer: Yes, SimService offers static IP.

SimService offers IP addressing controlled by the APN on many levels. The typical solution for M2M devices is a one-way communication on the Internet. All SimService APNs can be used globally.By configuring devices with APN = Internet, it can access IP addresses and URLs on the Internet. The Internet APN allows one-way communication only, so the device can't be accessed using the Internet APN directly from the Internet.

Guide
What is M2M?Communication between machines, also called M2M, is the foundation of a rapidly growing market for multi-interconnection of intelligent devices, also known as IoT. It is the concept of connecting devices (i.e., a 'thing') to the Internet or to each other, with the purpose of letting them talk together, listen and / or perform tasks. This includes everything from phones, coffee machines, washing machines, headphones, and lamps.


IoT Dictionary - The 'Smart' expressions